Online Bill Pay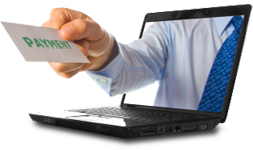 Over 80% of U. S. households now have Internet access, and at least 85% of all Internet users shop or bank online. Without a doubt, Online Bill Payment has been the #1 requested new feature by our Utilities and their customers. Not to mention, offering Online Bill Payment can often increase a Utility's total collections — sometimes by as much as 20%.
Making eCommerce easy.
RWI partners with leading providers in the finance/collections industry to offer Online Bill Payments for our website Subscribers. These solutions allow your utility to accept any invoice or arbitrary payments by credit card, debit card, or electronic check over the Internet or in person any time, 24/7/365.
Benefits include:
Increased collections
Enhanced customer service and satisfaction
Save money through reduced supply, postage, and staffing costs
All system features included, no additional modules to pay for
24-hour availability allows customers to conveniently pay at any time, from any location
Internet standards increase security and customer participation. A receipt is presented on-screen and delivered by email.
Has the time arrived for you and your customers to benefit from the convenience of Online Bill Pay?
For questions or to add Online Bill Payments to your website, simply Contact Us.
What our customers say…
"We are so excited that RWI has created such an affordable and easy-to-use website solution for the utilities. And the support they provide is excellent, too."
- Myrica Keiser, Executive Director
Virginia Rural Water Association
https://vrwa.org